Published by: Digital Schools
The Ironbark Maiden.
The branches hung as chandeliers, drooped and lowered in a vertical canopy with tassels of steely green leaves. Bunches of tiny candy-coloured blossoms bobby in amongst the leaves, and I reached up to try and catch the branch overhead, but it was too high.
The tree itself buried into a crumbling concrete retaining wall, cracked blackened bark that is leaked its sap; it leaned into the now fake bank of the Yarra – its back aching with the effort.
Like all of them along this walk, this tree isn't well.
I scrutinize the leaves, and like almost all the eucalyptus in the area, it is infected with a mould. The tree dispels onto itself a sticky coating – it is a callout for assistance to aid its affliction. I feel my whole body drop inside- it is too sad to see such a beautiful tree in this unhappy state.
And so I stand a while with her, 'the ironbark maiden' holding her leaves as friends hold hands, sharing a message of friendship before I head home along the river.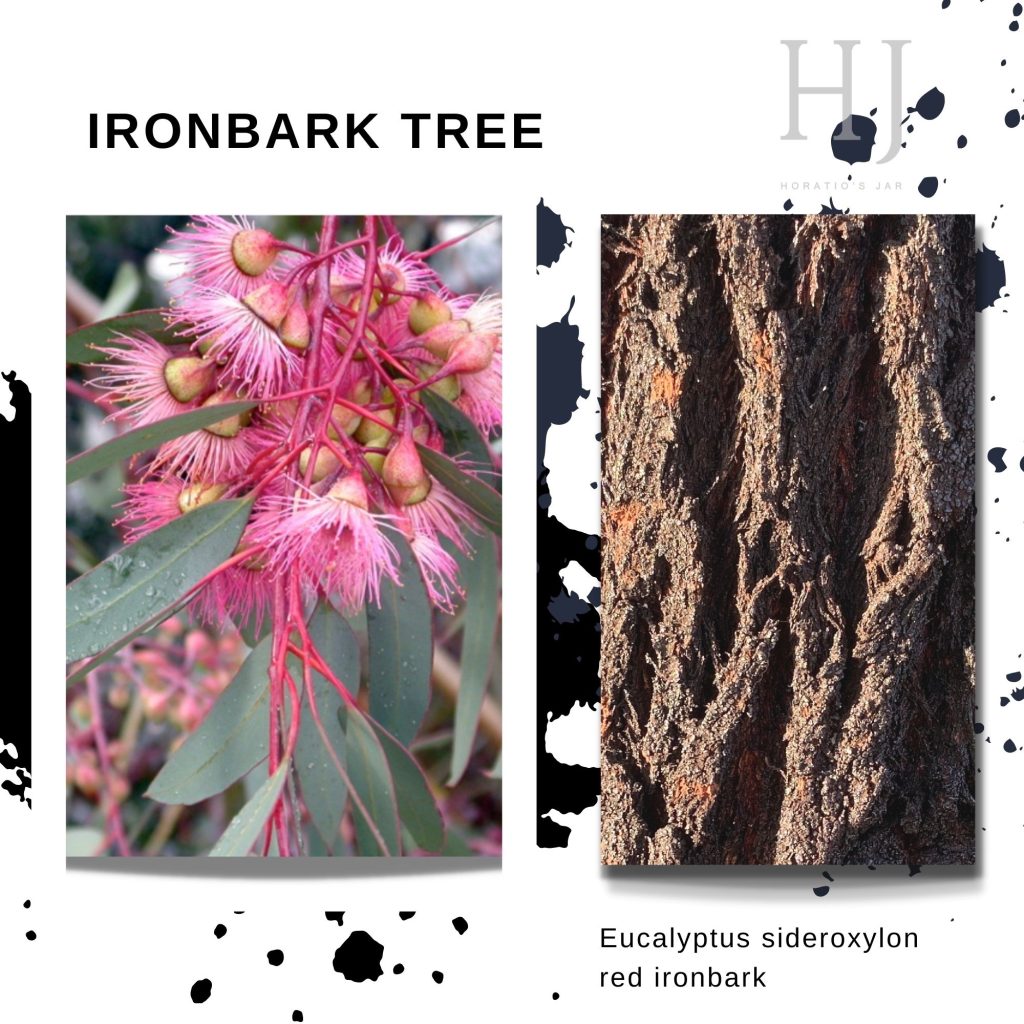 'Yarra Yarra'
Our river doesn't glint and ripple with crystalised light or dancing sparkles. Our river churns and grinds, rolls, and rumbles as a thick brown liquid – the colour of muddied water in a dried-up damn.
Today she is heaving with extra water, the banks are almost broken, and in the Sulley of her streaks, whirls and coils are spinning – the current is fast and deep. That's what it means, and I call Neumann back from the bank where he is drinking from.
It's too wide and too fast for him to swim if he falls in there, and I would likely drown too. That's what is so deceiving about rivers, especially this one. Unless you know it well, the depth and speed a river such as the Yarra has are deadly.
I grew up on a big river, one of the biggest in the world. Much more dangerous than this one, but no river that runs brown should ever be misjudged.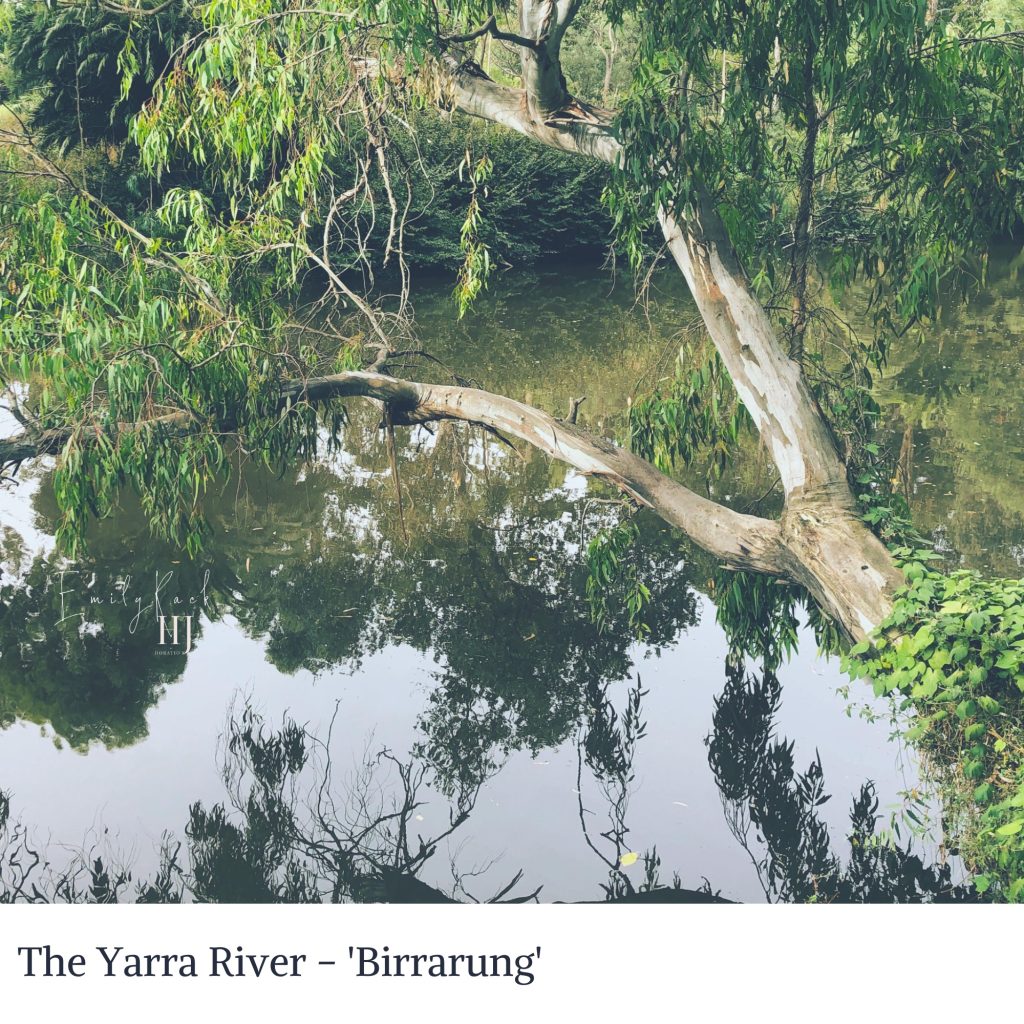 Deep Time.
I recall the words from a historian I recently listened to -that people generally have a hard time visualising what the ancient past looked like. And she is right.
Walking the Yarra home, I try to imagine the deep time and what it was like here, where I walk now, and I simply can not.

Guest Contributor: Emily Rack
Business Name: Horatio's Jar
Publisher: Digital Schools
Emily Rack is a  freelance creative writer and researcher, visual content creator, and designer. She is the head of the content production, publication – and editing for Upschool+ Guest Contributors -, and Horatio's Jar is her content production agency and wellbeing school. 
 Emily has dedicated her life to researching and understanding matters of the mind, body-, and the human experience. Her discoveries and research are focused on cultivating tools and dialogue that encourage us to live in peace and harmony here on earth.
Her current focus is the environment and human connectivity, conservation, environmentalism, botany, biology-, and the practice of 'Nature Bathing'.  Emily is a writer, digital content creator, seasoned photographer-, and visual artist.
——-
PUBLISHER'S DISCLAIMER: The publisher of this blog post (Digital Schools PTY LTD) works in partnership with the school as a 3rd party provider to help build and maintain the school website. Digital Schools sources a range of experts who provide products and/or services to educational institutions and we work with them to produce and publish topical information in the form of blog posts that we think  may be relevant, interesting or topical to families within the community. The views, opinions and content listed in this blog post are that of the guest contributor and/or publisher (Digital Schools). It should be noted that whilst the publisher and guest contributors are acting with the best intentions and in the best interests of the school and their community to provide helpful or interesting information, sometimes the content may not necessarily reflect the views of the school.
The information in this blog post is not meant to be used, nor should it be used, to diagnose or treat any medical condition. For diagnosis or treatment of any medical problem, consult your own physician.  The school and the publisher of this blog post  are not responsible for any person reading or following the information in this article who may experience adverse effects.
Any references to external websites or sources are provided for informational purposes only and do not constitute an endorsement by the school or publisher in any way and the publisher and/or school cannot guarantee the accuracy of the information listed.
If you have feedback on any content on this platform, you can submit it to the publisher using the feedback link provided at the bottom of this page.